With about 40 regular team members to choose from, we will start with our core staff of program managers, scientists, engineers and specialized optical engineers and then include key staff to build an optimized team for each client's specific challenges and business goals.
For very specific areas of expertise that might be required for a specific task, such as material science, we can leverage our industry knowledge and contacts to tap Into our pool of hundreds of experts. We serve as a versatile extension of your own project team.
At Optimum Technologies, our motto is "We build the best team to meet the client's needs, rather than making the client's needs fit the team we have." This ensures that you realize maximum value from your development dollar.
Our optical engineers and other team members have years of real world experience in the successful commercialization of products for the medical and biomedical sector. This experience ensures that from the early stages of the design process, your product is progressing along the path of least risk with respect to areas that include regulatory path, ergonomics and manufacturability.

Randal Chinnock
Founder/CEO
Mr. Chinnock commercializes technologies that use light to diagnose and treat disease. He has been involved with scores of medical devices and laboratory instruments that sense, image, irradiate, or analyze organs, tissues, or body fluids. Recent examples include an ophthalmic instrument for measuring refractive error of the eye, an LED illuminator for cancer drug activation, a disposable endoscope for viewing inside body cavities, an optical scanning system for fitting hearing aids, and a laser system for treating gum disease.
As CEO of Optimum Technologies, Inc. since its founding in 1994, Mr. Chinnock has worked with companies of all sizes on the development and commercialization of light-based devices. His 30+ years of experience include engineering, manufacturing, marketing, and general management positions at several companies engaged in electro-optical devices and systems, including Varian, United Detector Technologies, Smith & Nephew, and Henke Sass Wolf of America. In addition to its engineering and production services, his company is currently developing its own proprietary retinal imaging technology for screening for diabetic retinopathy under funding from the National Institutes of Health.
He holds a B.S. in Engineering Physics from the University of Colorado and studied Mechanics and Materials Science at Johns Hopkins University.
For fun, Randy likes to cook, swim, design and build unique structures, and drive small cars with big engines faster than he should.

Bob Andrews
Vice President of Business Development
Bob has over 30 years of experience in medical device product development and manufacturing. He is a hands-on medical device professional with strategic, technical, and tactical expertise; a strong management record of team building and product innovation; and is recognized for success in engineering, program management, and business development. He is a collaborative team player with a proven ability to lead, develop, and build large teams. He is experienced in business and product development strategy, formulation, and implementation.
Bob's areas of medical competencies include interventional cardiology, cardiovascular surgery, neurology, endoscopy, imaging systems, blood processing systems, urology, and diagnostic systems. His areas of technical competencies include CO2 lasers, catheters, optical instruments, capital equipment, and a wide array of disposables and consumables. His roles have included Medical Division Manager for QinetiQ North America (Foster-Miller), Director of Product Development for PLC Medical Systems (CO2 lasers for trans-myocardial-revascularization [TMR]), and Manager of Disposables Development for St. Jude Medical. Bob holds BS and MS degrees in Plastics Engineering from University of Massachusetts at Lowell, and an MBA from Bryant University.
For fun Bob enjoys target shooting as well as fresh and salt water fishing .

Joe Curtis
Director of Regulatory Affairs and Quality Assurance
Joe manages Quality Assurance, Documentation, and Regulatory Affairs.
Joe is a senior executive with 29 years of extensive experience in regulatory & clinical affairs along with quality assurance within the medical device market. He has developed and implemented key regulatory and clinical strategies for both pre- and post-market activities. Experience includes Class I, II and III medical devices that have been both disposable and implantable technologies. He has Pre-Market Approval experience with implant technology that included both polymer and metallic materials.
Joe has participated in industry based initiatives for down-classification of multiple technologies in the cardiovascular & surgical arenas and supported HIMA/Advamed based initiatives against the reuse of single use devices. Joe's technology experience includes: cardiovascular, surgical, orthopedic, gastroenterology, urology, interventional radiology, ophthalmology, and electrophysiology platforms with proven regulatory results. His company experience spans the range of start-up to multi-billion dollar firms that includes: Meadox Medical, CR BARD, St Jude Medical, Boston Scientific, Solace Theraputics, Endovations, and Cardiofoucus. Joe received his undergraduate degree from Quinnipiac College and is board certified in Radiologic technology.
Joe manages Quality Assurance, Documentation, and Regulatory Affairs.
For fun Joe enjoys fresh and salt water boating.
Neal Marshall
Director of Product Design
Neal has over forty years of experience in the development of products for consumer, commercial and medical device manufacturing companies. Previously Neal was Director of Product Design and Development at Avedro Inc. where he managed development of devices delivering UV light to corneas for treating Keratoconus, corneal thinning.  He has held engineering management positions with Gemini Design, Kendall Square Research Corporation, Symbolics incorporated, and Kurzwell Music Systems.
For fun Neal plays golf and work on the endless project called a house.

Clair Strohl
Risk Manager
Clair has decades of experience managing the development and documentation of innovative medical devices for Regulatory submission and launch in the U.S. and worldwide markets. He has extensive experience in the new product development and manufacturing implementation processes. This work included disposable product engineering design, materials evaluation, manufacturing process development, packaging, prototype testing, pilot manufacturing, technology transfer, and customer training. Products include implantable cardiac assist devices, blood processing disposables, urological collection systems, IV infusions, ostomy and vascular access devices, and ultrasonic and radiological accessories.
Mr. Strohl has supervised the development of human studies protocols, coordinated safety and efficacy testing for submission to the FDA. He has planned, staffed, organized, and directed product and process improvement for design-for-manufacturing, value analysis, and cost reductions programs. He has specified, purchased, and installed medical product manufacturing equipment. He has held management positions in C.R. Bard, Haemonetics, Abbott Laboratories, and the Kontron division of Arrow.
He received a B.S. in Electrical Engineering and an M.S. in Biomedical Engineering from Drexel University, and an MBA in Finance from the University of Chicago. He has authored several technical papers, is a Registered Profession Engineer, and holds a number of medical product patents for products actively used in clinical practice today.
For fun Clair enjoys four grandsons and target shooting competition.

George Grubner
Principal Electrical Engineer
George is a graduate of Harvard University and has a M.S. degree in Electrical Engineering and a M.B.A. from Babson College. He has over 30 years of experience with the design, development and production of electronic instrumentation systems that encompassed hardware, electronics, firmware, and control architecture. For instrumentation firms that include Galileo and Keithley Metrabyte, he has provided engineering, product development and management expertise in the medical device, laboratory and pharmaceutical sectors. His design experience includes a line of robotic workstations for pharmaceutical processes, a fluidic dispensing system, a DNA hybridization cassette, a microplate control system, electron multiplier detectors, data acquisition systems, a medical laser system, and a blood analyzer system.
For fun George enjoys travel and working around his home.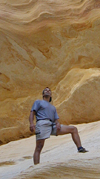 Jay P. Julian
Senior Opto-Mechanical Engineer
Jay P. Julian received his B.S. in Mechanical Engineering with a concentration in design from Worcester Polytechnic Institute. He has over 10 years experience in Opto-Mechanical Engineering, system design, and project management. He has extensive knowledge in spectrometer design and was the lead contributing inventor to a recently awarded patent for a Retro-reflective Concentric High Dispersion Multi-Range Raman Spectrometer. He has extensive experience in the system design and manufacturing of diffraction grating spectral modules, diode array spectrometers, and concentric hyperspectral imagers. He has also been responsible for manufacturing engineering roles in an ISO certified factory. He has extensive CAD knowledge in several packages having served as a CAD manager. He has been formally trained on Solidworks, and a user since 1999. Other formal training includes Trace Pro, Precision Mounting of Optical Components, Optical Testing, and Optical Alignment Mechanisms.
For fun Jay enjoys getting outside.

Max Kotlarchyk
Senior Biomedical Engineer
Max received his B.S. in Biomedical Engineering from Case Western Reserve University, and an M.S./Ph.D. in Biomedical Engineering from University of California Irvine. He has broad knowledge and medical experience in molecular/clinical imaging, nanoparticle gene therapy, regenerative medicine, biomechanics and laser microscopy. Prior to joining Optimum, Max worked as Senior Biomedical Engineer at Syprosoft Engineering, where he contributed to projects relating to diabetic cellular therapy/process control, dentistry, and cardiovascular applications. Max is an expert level user of Matlab and LabVIEW, and is knowledgeable in computer programming and mechanical/optical/electrical design.
For fun Max enjoys any water sport (swimming, surfing, sailing), skiing, biking, hiking, traveling to new places, trying to build things without knowing what he is doing and occasionally sitting on the couch.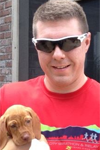 Andrew Wayner
Principal Software Engineer
Andrew received his M.S. in Electrical Engineering, with a focus on software engineering, from Western New England University. He has over 17 years of experience in the development of software for embedded applications in a variety of fields, including avionics, automotive, and medical devices. He has extensive knowledge of object-oriented design and has successfully used such technology to develop embedded software that is robust and reusable while reducing time to market. Andrew is a results oriented, hands-on individual with a passion for developing innovative, efficient, and quality-driven products.
For fun Andrew likes to run (especially with his dogs), bike, and playing ping-pong.

Micki Dupnik
Biomedical Engineer
Micki received her B.S. in Biomedical Engineering from Boston University, with a minor in Mechanical Engineering and a Concentration in Technology Innovation. Through her studies, she was able to learn how to not only design and create medical devices, but make innovative design choices and sell products to potential clients. Her design team of three was awarded 2nd place in the National Institute of Health's Debut Challenge and $15,000 for their Sensory Substitution Glove for the Visually Impaired. Through feedback from the Perkins School for the Blind in Massachusetts, she and her team were able to create a gesture-aware mobility aid to be used in conjunction with the white cane to prevent head-level injuries and falls.
For fun, Micki enjoys singing jazz and accompanying herself on piano, playing tennis, and cooking bountiful feasts.

Edoardo Bartolini
Electromechanical Engineer
Ed received his B.S. in Electromechanical Engineering from Wentworth Institute of Technology with a concentration in biomedical device engineering. While pursuing his electrical and mechanical courses at WIT, he gained both manufacturing and technical drawing ability through extra courses and spending time in the manufacturing labs. Ed has extensive experience with biomedical equipment, radiological devices and in thermal ablation for patients unfit for surgery.
As a distraction Ed will take on a hill on a longboard, cut some snow on his skis or hit a ball with a racket or an iron.

Sally Anderson
Office Manager
Sally Anderson received a B.A. from Sarah Lawrence College. She worked as a computer programmer/analyst for over 20 years. She has worked as an office manager for the past eight years.
For fun Sally enjoys cooking for friends and family, gardening, hiking and seeing new sites.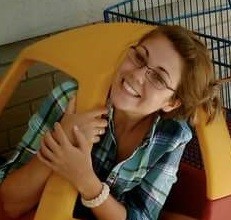 Elyse Ayers
Program Coordinator
Elyse holds a BS in Biological Sciences from the University of Connecticut. Prior to joining OTI, she worked at a flexible converting company for 4 years where she held roles ranging from Product Development Technician, to Associate Chemist, and eventually Technical Service Coordinator. Her prominent role in the multi-functional, fast-paced laboratory gave her a working knowledge of products, applications and end user specifications over various markets.
Her attention to detail, organization and drive for excellence allowed her to lead the laboratory in having record accuracy and efficiency.  While in the Technical Service role, she helped to manage customer complaints, provide resolutions, as well as bring in larger portions of business with market driven recommendations. She was previously a Registered Pharmacy Technician at Rite Aid Pharmacy while attending college.
In her spare time, Elyse enjoys DIY crafting, landscape and wildlife photography, and spending time with her wonderful family and friends. She is especially excited to experience life as a newlywed with her husband, Brian.