Your BioOptic or Optical Medical Device … products that will give your business—and your customers—an edge in today's hyper-competitive markets. Our focus is on providing you with the technical expertise you need to build innovative medical devices.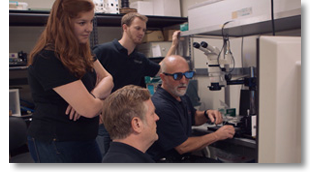 Our experience covers a global customer base that includes start-up, emerging, and established companies from the life science markets.
Specific areas of expertise include:
Optical Medical Devices
Point of Care Diagnostics
Surgical Instruments
Laboratory and Clinical Instruments
Ophthalmology Devices
We closely follow and adapt to life science applications the latest developments in areas such as light sources, detectors, CCD and CMOS imagers, fiberoptics, optical components, and other technologies in the ultraviolet, visible, and infrared bands.
Recent projects include disposable biomedical optics, endoscopes, camera imaging platforms for NOTES tools and surgical robotics, an ocular tear film analyzer based on white light interferometry and other ophthalmic devices, dental digital imaging system, optical cancer detection systems, spectrometers, medical laser delivery systems, fluorescence imaging systems, an optical coherence tomography system, digital dental scanner, dental laser, and a laser based wavefront aberrometer.