Tear Science
Steve Grenon, Vice President of Research & Development
Morrisville, NC
www.tearscience.com
This start-up in the ophthalmic device segment tasked OTI from 2009 into 2011 to develop the critical software and imaging of their engineering team's prototype instrument for the diagnosis of ocular tear film deficiencies and response to therapy. Specifically, we developed the analysis algorithm and associated medical optics to process the resulting tear film image quantifying the results. OTI provided measurement theory and algorithm development, optical design and engineering of illumination and imaging systems, prototype fabrication, extensive design verification and validation protocol development and testing, development of phantoms and calibration methods and technical support of 510(k) application. The resulting product has received 510(k) clearance and achieved an enthusiastic debut at a major ophthalmic conference in May 2010.
Fluidnet Corporation
Ben Powers, Director of Engineering
Amesbury, MA
www.fluidnet.net
In 2011 OTI was engaged to develop custom sensors for the device described on Fluidnet's web site: "A next generation, simple, low cost, yet highly portable new generation IV Smart Pump. There are only three internal moving parts to the system. Fluid gently, continuously and accurately 'leaks' to the patient with precise monitoring of the situation using state-of-the-art pneumatic and optically-based technologies. Air from the container and IV are actively eliminated. The pump is silent and so efficient that it can operate off AC power for many days on fully charged batteries. It can be used in any orientation relative to the patient and offers a brilliant high resolution color touch screen user interface."
From Ben: "Your group was very responsive to our rushed and constantly changing needs and provided a good level of data to support design proposals. I look forward to working with you and the team again in the future as the need arises."
Dimensional Photonics International
Eric Cunningham, Program Manager
Wilmington, MA
www.dpi-3d.com
For about 5 years, we have worked with Eric on many projects when he was employed at Herbst Lazar Bell and in his present position at DPI, a division of Sybron Dental, which is a Danaher company. In our most recent engagement we have performed extensive finite element analysis (FEA) of a complex opto-mechanical device, and have developed a dental disposable, from concept through design verification.
From Eric: "I have had the benefit of working with Optimum Technology at more than one company over the last few years. In each case their depth of knowledge and breadth of network within Optical Engineering has allowed them to deliver the required results. I would and have recommend Optimum to any company that needs to solve issues within their medical device or process promptly and accurately.
Morgan Scientific, Inc.
Patrick Morgan, President
Haverhill, MA
www.morgansci.com
In 2011 OTI was engaged to take over the development of a pulmonary testing device that had been partially developed by another contract engineering firm. The scope of work included an exhaustive review of the electro-mechanical design and all documentation relating to design, fabrication, and testing. A detailed plan to complete the development of the medical device was delivered, but Patrick reluctantly selected an alternate business strategy.
From Patrick: "I would be pleased to be a reference for potential customers and you are welcome to use my endorsement . . . I feel confident that had circumstances been different we would today be enjoying the US manufacturing [of this device]. Your plan is a true reflection of what is required to bring this project to a conclusion; something we never ever received from [the other firm]. I hope there is some way in which we can work with you in the future because I feel a true kindred spirit in the way you run your business."
Alcon Research Limited
Orlando, FL
Steven Bott, Former Vice President, Refractive Research & Development,
Alcon Surgical
(Presently at LensAR, Orlando, FL)
Ronald F. Scharf, PhD, MBA, Former Associate Technical Director*
(and formerly VP of R&D, Avedro, Inc., Waltham, MA)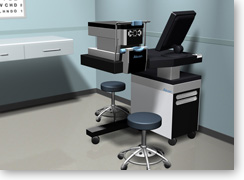 In 2008-2009 OTI worked with Steven Bott to develop a next generation Hartmann-Shack wavefront aberrometer for custom lasik surgery or higher order aberration. The medical optics device is a non-contact, optical wavefront device to measure the refractive error of the human eye to enable an enlarged treatment zone for LASIK surgery, which reduces or eliminates glare and "starring" experienced by LASIK patients during night vision.
The system focuses a laser onto the retina, so that an optical wavefront emanates from the spot and passes out through the lens and cornea of the eye. Using a microlens array and area detector (Hartmann-Shack sensor), the topology of the transmitted wavefront is measured. Users report that up to 90% of their patients achieve "super-vision", or better than 20-20 acuity.
From Steve: "In selecting third party engineering partners, in addition to the sense of teamwork conveyed in the first contacts, I always look at the quality and relevant experience of the engineers who will be actually assigned to the project. OTI has a stable of high quality engineers on tap and those assigned to our projects were really top notch. As important as the technical contributions, the Project Management skills of the OTI team, and Randy Chinnock in particular, exceeded those of our internal team and really helped make the projects successful. OTI NEVER missed a deadline and as an added bonus was extremely accommodating and professional when we needed to change the scope of the project in midstream. I would use OTI without hesitation in the future."
*Ron, currently at OTI, was at Alcon during the above-described program, and was directly involved with OTI's efforts there.
Covidien
Ken Horton, Director of New Technology, Business Development
North Haven CT
www.autosuture.com
Ken has been leading a group at Covidien's Laparoscopic business that examines technology advances and evaluates how these new technologies can be integrated into new or existing medical products to enhance Covidien's competitive position in the Laparoscopic sector of the medical device market. We have provided our expertise and knowledge of optical medical devices in assessing some of these products that have been under consideration.
Medispectra, Inc.
Richard Fortier, Formerly Senior Director, Product Development
Lexington, MA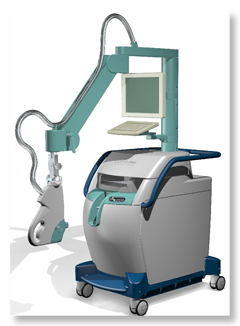 We provided a comprehensive set of product development services from including design, engineering, prototyping, and contract manufacturing services to MediSpectra for a disposable medical product used with their optical cervical cancer detection system. This included mechanical and optical engineering, as well as FDA/ISO compliant documentation, verification and validation, assembly & test fixture design, fabrication, calibration, and ongoing production. We also provided a concept development program for an endocervical device that would extend the capabilities of the base unit. This involved creative concept development of probe geometries and optical design, as well as some preliminary signal to noise assessment. These efforts contributed to MediSpecta's acquisition by SpectraScience Inc. of San Diego, California in 2007 and this cervical cancer detection system is now produced, marketed and sold as the LUMA System.
Richard Fortier left MediSpectra before the acquisition but is available to talk about his product development role while at the firm and our involvement in the development of the above product.
endoVia Medical
Robert Cunningham, Former CEO
(Presently a medical device consultant in the Boston area)
endoVia Medical was an emerging medical device manufacturer offering next-generation physician-guided computer-assisted systems for Minimally Invasive Surgery. We were hired as imaging experts to perform due diligence on the potential acquisition of a 3-D endoscopy company. Part of the project involved a survey of all commercially available components for a complete 3-D endoscopy system, including 3-D endoscopes, cameras, image processors, and displays. This included bench evaluation of some components, as well as the design and fabrication of a novel tester for measuring depth perception. We delivered a white paper with our findings. endoVia was subsequently acquired.
Sun Chemical Security
Mohammad Farahat, Ph.D., Director, Research & Development
Centerbrook, CT
www.sunchemical.com
We have worked with Dr. Farahat on several projects. In his present position, we are working on laser-based devices to detect covert security markings. In his previous position at PhotoSecure, we developed product concepts for a similar device for a consumer products company. We also collaborated on the early development of a sophisticated, Raman spectroscopy based system for measuring the drug concentration in pharmaceutical tablets.
Linemaster Switch Corp.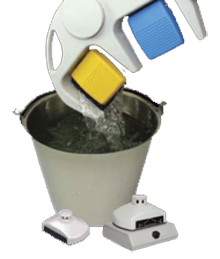 Joe Carlone, President
Woodstock, CT
www.linemaster.com
We provided design, engineering, and prototyping services to Linemaster for an innovative wireless footswitch for medical applications. The project included product definition, market research, mechanical engineering, electronic HW/SW engineering, and optical engineering. Mr. Chinnock is currently using this project as a case study in a class on medical product design that he is teaching as part of WPI/MassMedic's Medical Device Management Certificate Program.
Boston University
Professor Irving Bigio, Director, Biomedical Optics Laboratory
Boston MA
www.bu.edu
We have been working with Professor Bigio since 2002 to develop and commercialize technology he pioneered for optical cancer detection. The components include fiber optic probes, optical calibrators, and "boxes" containing broadband flash light source, coupling optics, spectrometer, computer and application software.