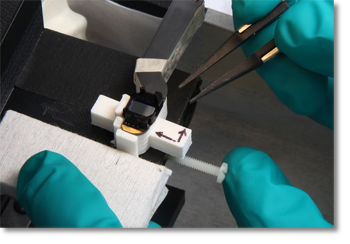 Optimum Technologies' Custom Disposable Medical Optics are single-use instruments that integrate illumination, video imaging, and a power source to provide performance comparable to reusable instruments, depending upon the specific instrument.
Product development and contract manufacturing services for single-use, disposable endoscopic or laparoscopic cameras and related miniature instruments are being developed at Optimum for use in various medical devices.
Developed in compliance with ISO 13485 for medical devices, key features can include a high-resolution 30,000 pixel image guide, wide field-of-view fiber-optic illumination, inflow-outflow lines, and injection molded housings.
Suitable for instruments used in NOTES™ (natural orifice transluminal endoscopic surgery), SIS (single incision surgery) and reduced portal surgery, OTI's Custom Disposable Medical Optics development capabilities include:
Concept
Mechanical engineering
Injection molded part design and sourcing
Fiber optics
Camera-on-a-chip
Wireless
Electronics
Software
Optimum Technologies' Product Development Services are offered from concept to full system integration and fees are based upon the scope of engagement.